Become A Member Partner!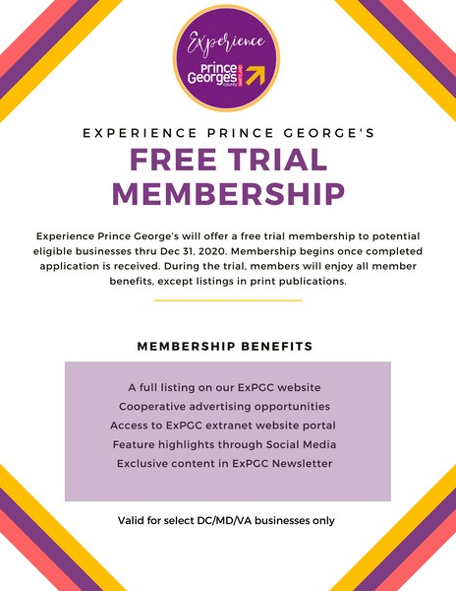 Membership — Join Us!
Are you dependent upon "VISITORSHIP" in Prince George's County? Is your business or service affiliated with the hospitality, travel and tourism industry? If the answer is YES to either of these questions, consider the value of becoming an Experience Prince George's member.
Prince George's County sits at the doorstep of one of our nation's largest and most popular tourist attraction — Washington, DC. Each year over twenty-two million people visit the Nation's Capital, attending meetings, conventions, special events and sightseeing. In addition, we are within close proximity of various important attractions in Annapolis and Baltimore.
Taking advantage of our premier location in the Washington/Baltimore/Annapolis corridor and our own array of sites, attractions, and lodging – Hospitality, Travel & Tourism has grown into a $612 million industry for Prince George's County.
Be a part of the phenomenal growth and opportunities taking place in Prince George's County. Join us as a corporate sponsor or take advantage of our general membership. Membership is open to individuals, businesses, organizations and corporations.
Click here to complete the Membership Application. PLEASE NOTE membership is subject to approval by Experience Prince George's. Submission of application does not grant or guarantee membership.
For membership information, please contact Ngina Jackson, Destination Services & Special Events Manager
301.925.9819 / njackson@experiencepgc.com
EXPERIENCE PRINCE GEORGE'S serves as the County's Destination Marketing Organization providing information on county accommodations, restaurants, attractions, recreation, event & meeting facilities, and events. Experience Prince George's prints and distributes several publications such as: Prince George's Calendar of Events; Visitors Map (map/listing of accommodations, attractions and restaurants); official Prince George's County Visitors Guide; and other special marketing tools and newsletters.
Experience Prince George's distributes member's brochures (where applicable) and our publications to State and County information centers, visitor inquires, consumer travel & trade shows, conferences, meetings, and seminars.
Experience Prince George's maintains professional memberships in professional organizations (see Affiliations) in order to promote member facilities.
Experience Prince George's maintains contact (on behave of our members) with corporate, government and business meeting planners through advertising, marketplace participation, and direct mail campaigns.
Experience Prince George's provides members with representation to the group tour market through cooperative advertising, participation in trade shows, and direct mail campaigns.
Experience Prince George's provides its members with cooperative advertising opportunities in selected markets.
Experience Prince George's distributes leads and referrals of all types to its members.
Experience Prince George's provides exposure to travel writers through participation in Familiarization Tours and through direct contact with local, regional and national publications.
Experience Prince George's provides representation at County and State levels of government on issues of common interest to its members.