Prince George's County Welcomes You!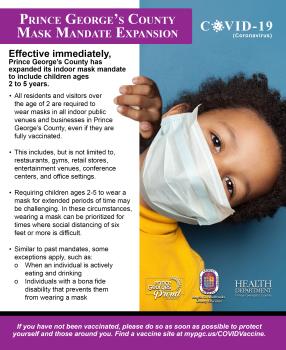 Prince George's County has expanded it's mask mandate to include children effective October 7, 2021 in an effort to keep residents and visitors safe. Everyone is encouraged to exercise caution and use good judgment for the safety all. It is important to continue to wash your hands frequently and wear a face covering while indoors of all establishments, on public transportation, in all schools, childcare, and health care settings. To see the County's latest COVID-19 trends and data, view our COVID-19 dashboard.
All business establishments will continue to operate at 100% capacity. Social distancing restrictions have been lifted for all indoor and outdoor venues in Prince George's County but masks are required indoors.
Face Coverings
Due to safety and health caution, all individuals vaccinated and non vaccinated are required to mask in all indoor establishments. We strongly encourage unvaccinated individuals to continue wearing a mask at all times until you are fully vaccinated. 
National Harbor Curfew
A curfew has been imposed at National Harbor for unaccompanied minors ages 17 and under on Friday, Saturday, and Sunday nights from 5:00 PM to 6:00 AM. Several exceptions are in place, including minors that are accompanied by a parent/guardian or an adult age 21 and over, as well as minors who are working or returning home from a job at National Harbor. 
Any person who violates this curfew, including a parent or guardian who allows a person 17 years of age or younger in their care or custody to be unaccompanied at National Harbor in violation of the curfew, may be fined up to $1000 or charged with a misdemeanor, and on conviction may be subject to imprisonment not exceeding one year or a fine not exceeding $5000, or both.  
County Businesses
All capacity and distancing restrictions have been lifted for all indoor and outdoor venues in Prince George's County. These establishments may resume normal operations at 100% capacity. All County businesses with questions about whether they can be open and how they can operate as Prince George's County moves through its phased reopening, should reach out to Experience Prince George's at COVIDCompliance@co.pg.md.us or 311.
Protecting Yourself and Others:
We encourage every Prince Georgian and visitor to continue to take actions to help prevent the spread of viruses:
Wash your hands often with soap and water for at least 20 seconds. Use an alcohol-based hand sanitizer that contains at least 60% alcohol if soap and water are not available.
Avoid touching your eyes, nose, and mouth.
Avoid close contact with people who are sick.
Stay home when you are sick.
Cover your cough or sneeze with a tissue then throw the tissue in the trash.
Clean and disinfect frequently touched objects and surfaces.
____________________________________________________________________________________________________________
For the latest local and regional Coronavirus (COVID-19) news, information, directives, and mandated closings, please visit:
Prince George's County Government COVID-19 Update
Prince George's County Business Resources
State of Maryland Government COVID-19 Update
State of Maryland Executive Orders
District of Columbia (Washington DC) Government COVID-19 Update
University of Maryland Reopening
TRAVEL RELATED UPDATES:
Maryland Travel Updates & Alerts
Washington DC Travel Updates & Alerts
Washington Metropolitan Transit Authority (METRO)
Baltimore Washington International Thurgood Marshall Airport (BWI)
PRINCE GEORGE'S COUNTY EXECUTIVE ORDERS:
Executive Order as of September 30, 2021 - EO (No.21-2021)
Executive Order as of August 5, 2021 - EO (No.18-2021)
Executive Order as of May 14, 2021 - EO (No.11-2021)
Executive Order as of March 11, 2021 - EO (No.8-2021) 
Executive Order As of January 26, 2021 - EO (No.3-2021)
Executive Order As of December 15, 2020 - EO (No.27-2020)
Executive Order Update  - Directive and Order for Enhanced Consumer and Employee Safety
Executive Order Updates  - Revisions to Phase Two Executive Order
Executive Order of the Full Phase Two Reopening – EO (No.15-2020)
---
Additional resources for residents, visitors, and those doing business in Prince George's:
Centers for Disease Control and Prevention (CDC)
National Institutes of Health (NIH)
World Health Organization (WHO)
International Association of Exhibitors and Events (IAEE)
Professional Convention Management Association (PCMA)