A Message from Experience Prince George's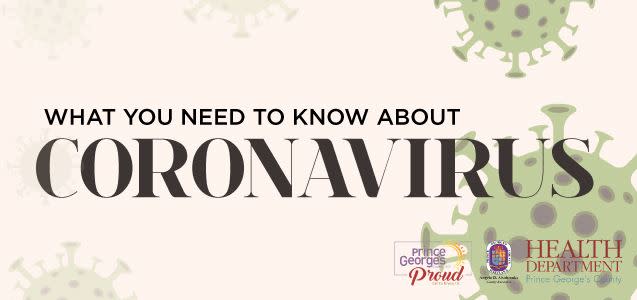 The staff of Experience Prince George's is actively monitoring developments surrounding Coronavirus (COVID-19), as the safety, health & well-being of our residents, our visitors, and our guests are a top priority.
Experience Prince George's is consulting with local/state government and health officials, industry leaders, as well as those in the tourism and hospitality sector to determine best practices as we globally address this issue.
We are also engaged in determining the possible impact Coronavirus (COVID-19) may adversely have on Prince George's County attractions and amenities - and their ability to serve the public (both now and looking forward). Over the proceeding days, weeks, and months, we will continue to meet with, question, and survey associates on the state of the industry in Prince George's.
To our ExPGC members and associates, we ask that you fill out our brief survey pertaining to the state of the industry. Are you experiencing cancellations and/or postponements of events, group tours, meetings, conventions? This information is invalueable in determining the conditions at hand, and how best to proceed.
We will continue to provide information that is pertinent to you and the general public. Our goal is to keep all parties abreast of developments as they happen in Prince George's and the region through direct communication, notices, our social media feeds, and the ExperiencePrinceGeorges.com website.
For the latest local and regional Coronavirus (COVID-19) news, information, directives, and mandated closings, please visit: 
PRINCE GEORGE'S COUNTY:
Prince George's County Government COVID-19 Update
Prince George's County Business Resources
MARYLAND:
State of Maryland Government COVID-19 Update
WASHINGTON, DC:
District of Columbia (Washington DC) Government COVID-19 Update
TRAVEL RELATED UPDATES:
Maryland Travel Updates & Alerts
Washington DC Travel Updates & Alerts
Washington Metropolitan Transit Authority (METRO)
The County Health Department is receiving regular updates and guidance from the Centers for Disease Control and Prevention (CDC), as well as state and regional public health partners, about the Coronavirus (COVID-19) global outbreak. And, the Health Department's top leadership and the County's Communicable and Vector-Borne Disease Control program are in constant contact with state and federal officials to closely monitor and share information about preparations, prevention, response updates and potential cases. The County Executive and her cabinet are engaged and being updated regularly.
Working with state and federal counterparts, Prince George's County is prepared and well-equipped to handle this current situation. As it is rapidly evolving, the County Health Department has a dedicated coronavirus webpage that updates automatically and regularly: Health.mypgc.us/coronavirus
The County also has a COVID-19 hotline operating at 301-883-6627. IMPORTANT TO NOTE: Please call the hotline and not 911 if you or someone may need to speak to someone about the virus. Contact a doctor if you develop the following symptoms: fever, cough, shortness of breath. Symptoms may develop 2-14 days after exposure.
WHAT TO DO TO PROTECT YOURSELF AND OTHERS:
This is something that can't be said enough. The best prevention and illness management strategies include the same ones we use during cold and flu season. We encourage every Prince Georgian, every visitor, every guest to do some easy, everyday actions to help prevent the spread of respiratory viruses:
Wash your hands often with soap and water for at least 20 seconds. Use an alcohol-based hand sanitizer that contains at least 60% alcohol if soap and water are not available.
Avoid touching your eyes, nose, and mouth.
Avoid close contact with people who are sick.
Stay home when you are sick.
Cover your cough or sneeze with a tissue then throw the tissue in the trash.
Clean and disinfect frequently touched objects and surfaces.
SOCIAL DISTANCING:
With the Coronavirus (COVID-19) continuing to spread, with no vaccine or specific treatment yet available, social distancing is the main available way to slow the pandemic by making it more difficult for the virus to spread from person to person. Click here to see the Guide to Social Distancing.
If you are experiencing fever, shortness of breath, cough, AND if you have concerns about your recent travel abroad OR have come in close, continued contact with someone who has confirmed Coronavirus (COVID-19), you should seek medical care.
Call your health care provider before you go and tell them about your symptoms and exposure concerns.
Misinformation about Coronavirus (COVID-19) can create fear and hostility that hurts people and makes it harder to keep everyone healthy. We can fight stigma and support others by sharing accurate information and staying informed through reputable, trusted sources.
Travelers should strongly adhere to healthy travel practices, like recommendations associated with the U.S. flu season: wash hands often, cough into your elbow and sneeze into a tissue, avoid contact with people who may already be sick, etc.
---
Additional resources for residents, visitors, and those doing business in Prince George's:
Maryland Travel Updates & Alerts
Washington DC Travel Updates & Alerts
Centers for Disease Control and Prevention (CDC)
National Institutes of Health (NIH)
World Health Organization (WHO)
International Association of Exhibitors and Events (IAEE)
Professional Convention Management Association (PCMA)
---
Please continue to monitor the Prince George's County Health Department's dedicated Coronavirus website, health.mypgc.us/coronavirus, as well as CDC's coronavirus website and the Maryland Department of Health's coronavirus website.
Thank you,
Experience Prince George's